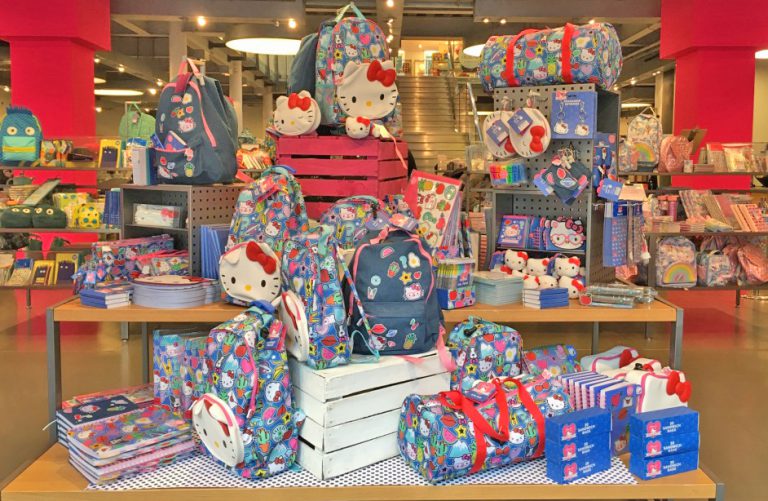 Hello Kitty stationery relaunch by Paperchase
1. The Helix Oxford Maths Set in new colours!
Such a simple idea but who would have thought that putting some colour into one of the most established Back to School products could look so impactful! Yes I'm embracing my inner stationery geek because Maths sets have officially become exciting. Available in WHSmith, Ryman and Office Outlet, larger stationery sets are available in Tesco.
2. Stabilo pastel highlighters
Totally on trend with pastels and again reinventing a Back to School classic, stationery influencers are gushing about these Stabilo pastel coloured highlighters. Available in most major stationery retailers.
3. Pritt glitter pack
These Pritt stick original and Pritt glitter combo packs are available in Tesco, Sainsburys and Asda in a range of pack formats. This is clever – the kids need the white Pritt stick for school but want the glitter Pritt stick – this pack has the perfect ratio of both for home and school. Parents and child's boxes ticked.
4. Zebra marble pens
I saw these in Asda and loved the idea of being able to write in a rainbow of colours all at the same time.
5. NPW Emojinal range
This has been out for over a year now, however deserves a mention with the Emoji Movie having just been released. This range does a great job of combining novelty gift stationery with more practical products such as ringbinders and weekly planners – there's something for the whole family. Available in John Lewis and Paperchase.
6. Paperchase Hello Kitty range
She's back and has been seen on fashion collaborations with Nylon, ColourPop and Lazy Oaf. Paperchase remain true to the brand relaunching Hello Kitty Stationery in a new way.
7. Tesco's branded stationery essentials in a bag
8 branded Back to School items for a great price £12. Includes Pukka A4 notebook with 80 sheets, Pukka ring binder, Pritt Stick, Oxford maths set tin, Oxford 30cm folding ruler, Staedtler Noris stationery set, Tippex Mouse 3 pack and a Bostik Blue Tack and Glu Dots combi pack.
9. Scentos sugar rush scented mega colouring set
We loved this set, it would make an ideal Back to School or Christmas gift and is available in Tesco for £10.
10. Smiggle reversey sequin pencil cases and notebooks
Difficult to know which delicious products to choose from the Smiggle range as they are constantly innovating but these were our favourites.
Click here to see the full article and find out more about the Bright Disposition 'Back to School' report.