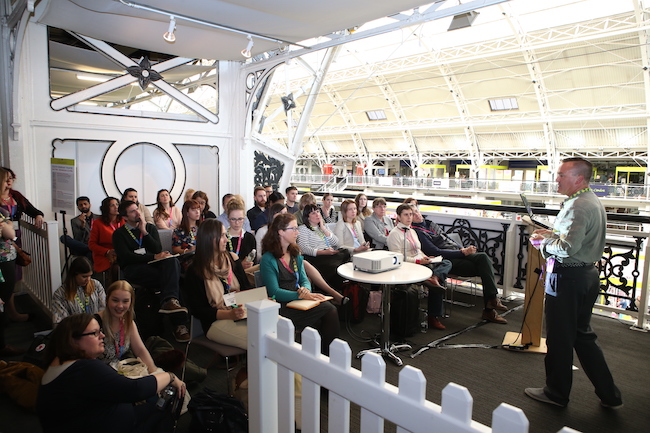 Phil Pond of Scarlet Opus speaking at the London Stationery Show in April 2017
The show's organisers have revealed trend forecaster Phil Pond and Giftware Association chair and independent retail consultant Henri Davis are among the line-up for the debut Manchester show.
In his presentations, Phil Pond of trend forecasters Scarlet Opus will explain how millennials are different from other consumers, in ways that have never happened before. He'll show how understanding their expectations and influence over all consumer age groups will help retailers recognize how to win their custom.
His presentations, on both days of the Manchester Stationery Show, will also look at how the stationery industry can work in harmony with the digital world to grow business, and he will review fashion and design trends to identify those that will work well for stationery and are worth investing in.
"This year the most popular design style for Christmas will be a very traditional, handcrafted, rustic and natural look. We've called the style 'Homeland' and we will share details that will inspire and inform Christmas merchandising and window displays," promises Phil.
Phil will be speaking at the new Manchester Stationery Show which runs on Tuesday and Wednesday, 31 October & 1 November, at the Victoria Warehouse in the Old Trafford area of Manchester. Visitors can register via the Manchester show website at www.stationeryshow.co.uk
Before the show organisers release the full speaker programme later this month, they have confirmed that Phil will be joined by Giftware Association chair and independent retail consultant Henri Davis, High Street and retail commentator, Michael Weedon, Tracey Bearton, editor of leading trade title Greetings Today and well-known graphologist Christina Strang.