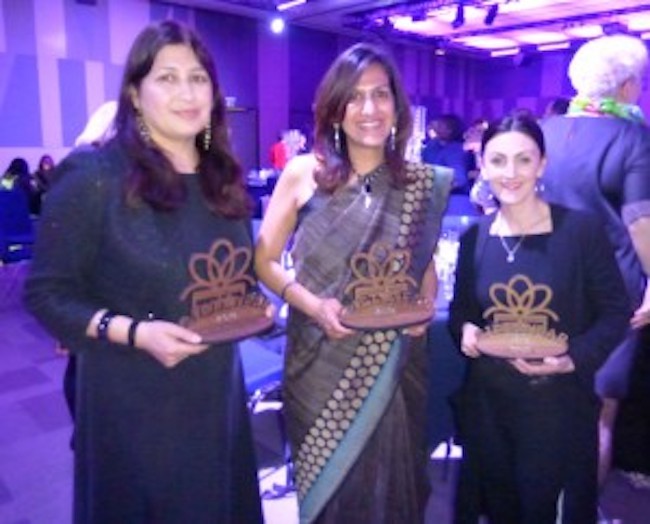 L-to-R: Zakera, Peace&Blessings; Rani, Paper Mirchi; Ilona Drew, I Drew This. Photo:PGBuzz
Newbie talents Peace & Blessings and Paper Mirchi scooped stationery and design awards at the Gift Association's Gift Of The Year 2018 Awards ceremony in Birmingham on Sunday 4 February.
Among the 16 categories in the awards, which aimed to find the most exciting retailers and products on the market in 2017 and 2018, Peace & Blessings won the award in the Greetings & Stationery category, and Paper Mirchi won the Shirley Frost Award for designer/makers.
Zakera Kali, who started Peace & Blessings last year, found instant success with her range of premium ethically sourced greetings cards celebrating non-mainstream religious festivals and cultural events - she was one of six winners of the LaunchPad Manchester competition in October 2017, so the GOTY Award for her Mono and Pastel range is yet further recognition for the nascent brand.
Giftwrap company Paper Mirchi, owned by Rani Moochhala, won the Shirley Frost Award (for designer/makers) for her beautiful handmade paper. This award also came on the back of Paper Mirchi's success at the LaunchPad Manchester competition, marking her brand out as one to watch.
The 2018 Gift of the Year winners are:
Home Product – Limited Edition Brighton Pavilion Print by I Drew This
Greetings & Stationery Collection – Mono and Pastel Greetings Cards from Peace & Blessings
Shirley Frost Award (for designer-makers) – Handmade Artisan Giftwrap from Paper Mirchi
Hot Novelty Product – Prosecco Pong from Talking Tables
Fashion Accessory – Sara Miller Silk Accessories from My Gifts Trade
Kitchen & Dining Product – Apron Made from Old Denim by Ian Snow
Festive & Occasional Product – Christmas Roast Dinner Box from Ross & Ross Food
Contemporary Gift – Octagon One Desk Lamp from Gingko Electronics
General Gift – Hand Painted Gin Glass from Sunny by Sue
Gift Food – Indian Spice Tin and Handmade, Silk Sari Wrap from Spice Kitchen UK
Children's Gift – Fantastic Dragon 3D Colourable from Ooly
Body, Bath & Home Fragrance Product – Great British Bee Co Handcare Range from Great British Bee Co
Under £10 Product – Gin & Tonic Handbag from Bath House
Garden & Outdoor – Green Picnic collection from Fallen Fruits
Licensed Product – Natural History Museum Gift in a Tin from Apples to Pears
The Judges' Choice award (selected from the winners of all categories) – Octagon One Desk Lamp from Gingko Electronics
Entries for next year's GOTY awards will open in July 2018.